Yesterday I received the news I was the lucky winner of the book "You want to do what with PHP" by Kevin Schroeder.
Kevin works for Zend Technologies as a Technology Evangelist and
is also the co-author of The IBM i Programmer's Guide to PHP.
The book "You want to do what with PHP" has what I would call one hell of a cool cover. I do not know what it is with technical books, but the tendency
is to put very old drawings of woman, animals, artifacts, constructions (mostly bridges) and so on on the cover. I do not know why they do that. Maybe it are metaphors, if so I only understand the construction one. An antique sketch of a woman is less clear, maybe it says beware the programming language you will read about is soooo static and old it will crumble your mind. HAH, as if! PHP is dynamic and packed with fun cool things, so why not make the cover dynamic as well? Well this book cover portraits just that. Judge for yourself.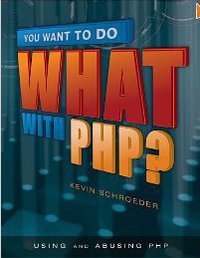 If you want to know what this mind stretching book is about check Kevin's blog:
http://www.eschrade.com/page/want-what-with-4c6d63c8
The book was on my Amazon's wish list when I saw a tweet come by…
People who know me, know I am active in the PHP Community and that means I was able to see a tweet come by from kpschrade aka Kevin telling everybody who follows him or #php to visit a blog post he wrote: the big give-away. He announced he was going to give 9 free copies to the community. Three for people who are fan of his book on facebook, 3 for people who would retweet the blog post and 1 copy to each of the 3 lucky PHP user groups world wide. That made me have 3 possible venues where I could win a copy. Potentially through my local user group PHPBenelux (if they would win), facebook and twitter.
It was Facebook that did the trick. Now I am looking forward to receive it after which I will write a full review on this blog.
You can also win a copy as Kevin only recently started the big giveaway so hurry up:
tweet the blogpost http://www.eschrade.com/page/read-first-then-tweet-free-book-4cdc3972
become a fan on facebook http://www.facebook.com/pages/You-want-to-do-WHAT-with-PHP/162209530457356
if you are not yet a member of a user group shame on you, wash the shame away and go join one (http://www.zend.com/en/community/local-php-groups)! The reasons why are neatly summed in
the blog post by Anna http://annafilina.com/blog/developer-community-where-to-start-part-1/.
Thanks Kevin for the book,
Warm winter greetings from Belgium,
Nick Belhomme